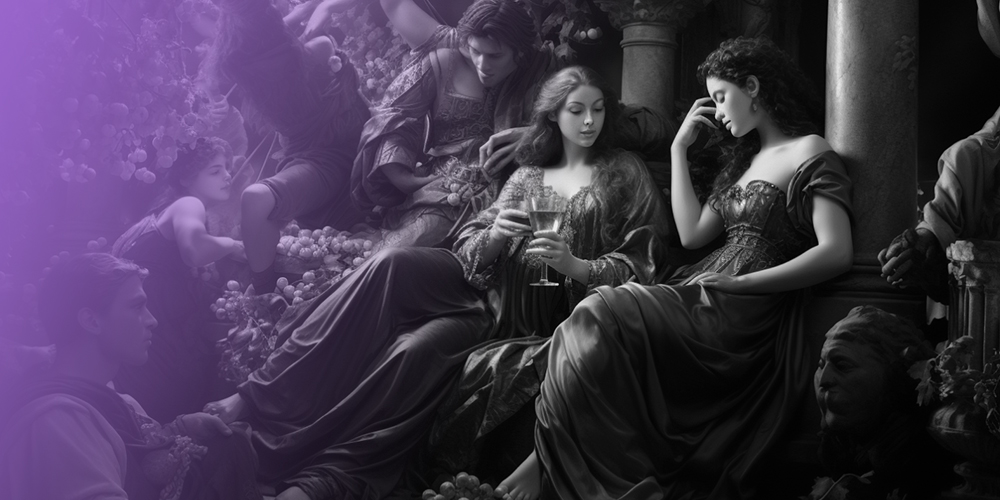 Mythical Mingle: Gods Gone Wild
Step into a world where the divine meets the mortal, where myths come to life, and where the gods and goddesses themselves walk among us. Welcome to Mythical Mingle: Gods Gone Wild, an immersive and kinky role-play party inspired by the captivating mythology of Ancient Greece.
Embark on a Mythical Journey…
Prepare to be transported to Mount Olympus, the realm of the Greek gods. As you enter our unique venue, you'll find yourself in a world filled with the wonders and mysteries of Greek mythology, with a dark twist of BDSM to bring that extra level of debauchery.
Embody Your Divine Persona:
Each guest will be given a fitting identity of a Greek god, goddess, or other enrapturing role. Will you be the wise Athena, the mighty Zeus, the alluring Aphrodite, or one of the countless other mythical figures? Dress in your most extravagant outfit, don your laurel wreath, and embrace your divine essence.
Interact with Deities and Mortals:
Throughout the evening, you'll have the chance to engage in naughty role-playing encounters with fellow partygoers. Forge alliances, make deals, or challenge the gods themselves in a game of wit or strength. Expect divine interventions, unexpected twists, and legendary rivalries as you navigate the intricate world of Mount Olympus.
Indulge in Divine Delights:
Feast like a true Olympian with a buffet of delectable fruits and ambrosia-infused drinks. Savor the flavors of Ancient Greece and enjoy the nectar of the gods as you serve, or be served, in our temple of delights.
Whether you seek power, romance, or revelry, Mythical Mingle: Gods Gone Wild offers an unparalleled opportunity to step into a world of mythology, where gods and mortals collide in an unforgettable night of immersive role-play and mischief.
Tickets are limited, so secure your place among the gods and mortals today. Don't miss the chance to experience the magic of Mythical Mingle: Gods Gone Wild and create your own mythological tale.
Join us and make history in a night that will be talked about for millennia to come.
Covid:

3G+

Sprache:

Englisch