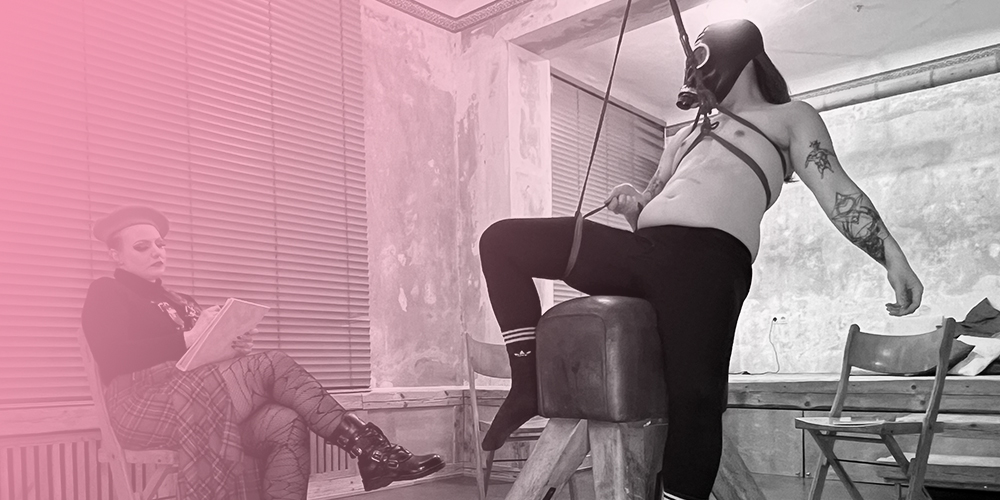 BDSM Life Drawing
We are excited to open our doors to welcome your creativity and artistry at our BDSM Life Drawing! This life drawing features kinky professionals and sex workers as models doing what they do best. Every month we are introducing you to a colleague of ours, dominant, switch, or submissive, and their area of expertise. Each life drawing session is dedicated to a specific kink and/or fetish for you to explore with us in a safe and inclusive environment. This unique opportunity also takes advantage of the impressive range of our BDSM tools, including a multitude of different toys and fetish gear and furniture which can be utilised in the scenes.
Use your chance to create extraordinary artwork! Part of this life drawing is an authentic play scene that will unfold in front of you. Discover the diverse BDSM world with a safe and educational approach: be the observer, be the participant. With a never ending supply of activities and scenarios to explore, we will focus on a different topic each session, so there will always be something new and exciting for you to discover. You will be sketching authentic BDSM scenes, intense but intimate; scenes that truly unleash skills and vulnerability of our models.
We warmly welcome any feedback and also encourage you to make any suggestions or requests for something you would like to see on one of these nights.
Reserve your spot today and let your imagination run wild on canvas! You can choose between purchasing a ticket in advance for the reduced price of 17€, or you can remain spontaneous by getting your ticket for 20€ at the door on the day of the event. We open our doors at 6:30pm and start sketching at 7pm, don't be late! It is not necessary to have any experience in sketching or drawing: we are not an art school! We're striving to create a safe space for every artist regardless of their experience and skill level.
What awaits participants
Kinky, sensual, sexual, explicit life drawing scenes that utilise a wide range of BDSM furniture, tools, and toys and feature amazing sex workers who are a part of the studio LUX. We'll be going through a variety of poses, including short ones (1-2 minutes) and longer ones (7-10 minutes), so you can capture all the details. Join us, get inspired and be your creative self!
We strive to make this event safe and accessible for everybody. To ensure that we'll be providing you with a COVID self-test to take on site. Please bring your FFP-2 mask: we can only take them off during the event if everyone tests negative and actively consents to leaving the masks off.
What to bring
– Your sketchbook and/or paper

– Pencils, charcoal, pens, watercolour, or whatever else you prefer to sketch with

– FFP-2 mask
You have the choice between an online booking for 17€ or the box office for 20€(only cash payment possible).
Covid:

3G+

Sprache:

Deutsch/English