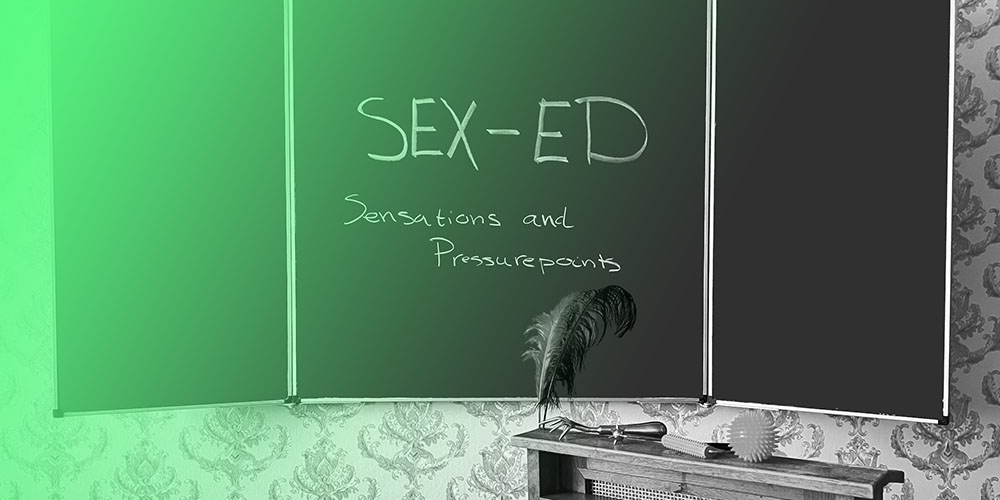 Sex-Ed Sensation & Pressurepoints
General sex-ed does not mention sensations as a part of sex yet we know how adding a simple blindfold or the right kind of music can add to sexual pleasure and help set the mood. In relation to BDSM using senses and sensations is an important way to create the right atmosphere and start to a good session. There is much to experience and learn through this subject in relation to pleasure and pain. In this course we aim to go deeper into what sensations and sensory play has to offer when it comes to general pleasure and sex.
– What awaits the participants
We will teach the basics of Sensations and Sensors Play through lectures, talks and of course demonstrations.
– Target group
Any person who wants to learn the basics of how to play with sensations.
– Content sequence
Basics – Anatomy
Pleasureplay

Erogenous zones
Pressure points
Visual/Sound/Taste
Sensory deprivation
Suspension (BDSM leather ankle cuffs)
Electricity
Heat/Cold
– What to bring / prepare?
Pen and paper aren't a requirement but recommended as we will be going over a lot of information in a very short time.
Covid:

3G+

Sprache:

Englisch